A positive mindset will change everything.
Good Morning Poison Apples!
It's Monday morning and it's the start of a new week! If you've known me for any time now, you know that I have never had a huge problem with Mondays (don't get me started on Tuesdays though).
Monday, to me, is a day to start fresh, relax, and wind down from the weekend before we get to the grind of the week. Having this mindset has always gotten me through the Monday blues and get my week started off on the right foot.
As I mentioned in my last post, I've been having a little bit of a difficult time lately, but this past weekend wasn't actually that bad.
Friday night, I chilled out at home with a couple glasses of wine; I went classic with a red Moscato, screw top and caught up on shows on my DVR.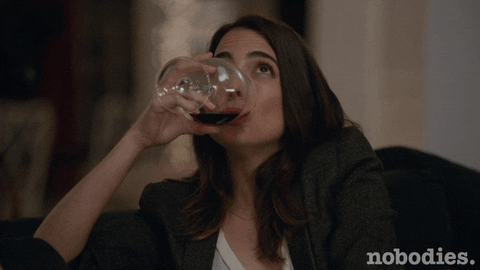 I wasn't really looking forward to Saturday because I had to work. I'm a Monday through Friday kinda girl, so the thought of having to go into work on a Saturday was not really something I was looking forward to. However, it actually ended up not being such a bad thing. It got me out of the house, which is something I haven't been doing on the weekends lately . . . and though, yeah, I'd have rather spent my time on a patio with a cocktail, chatting with one of my friends, I still moved from off of my couch and right now, I'd call that an accomplishment.
The drive in to work was nice and easy and I listened to my current Audible read: Good Girl, Bad, Blood by Holly Jackson. This book is the sequel to A Good Girl's Guide To Murder, which I HIGHLY recommend btw.
My shift at work was pretty easy and I got to continue looking at the beautiful, sunny day while I worked. After four hours, I was back on the road, commuting back home, and I was in the house while the sun was still shining. After taking a shower, I opened my blinds and took in the last bit of daylight while I made some dinner and sipped on some wine. I ended the night with some true crime from dateline and then I cozied up in my bed.
Sunday was just as good; I got housework done and then spent a few hours with a friend, chillin, catching up, and watching a movie on Netflix I've been wanting to watch: Thunder Force. It was pretty cute! All of that, and then I ended my day in a bubble bath!
I think a lot of what turned this weekend into such a good one was me changing my mindset about it Friday night. While I was at work Friday, really throughout the whole week, I wasn't looking forward to this past weekend. I knew I had to work and I needed to get chores done and I felt like my weekend was pretty much a wash. However, before I went to bed Friday night, I told myself to enjoy the time I was going to have to just relax. Though I still had to wake up to an alarm Saturday morning, I still got to sleep in. Though I wasn't going to get much time to write this weekend, I was going to have a clean house and more money on my next paycheck. That positive mindset turned the whole weekend around.
So, cheers to this Monday and keeping the positive mindset going!
I just need to remind myself to do this again on Tuesday 😅
Much love,
Shay